East Sussex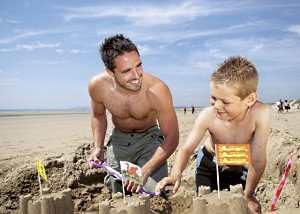 East Sussex is often overlooked by tourists looking for a holiday inside England. It is largely unspoiled and has maintained most of its heritage, which makes it one of the most unique places in the country. It's hard to see why more people don't flock to this part of the world, because there are so many areas of breathtaking beauty here. One "must-see" is the Hastings' SeaWorld aquarium which is both fun and educational for families.

Those with children should definitely visit the Smugglers' Adventure in St Clements Caves which has a number of fun attractions. Fort Fun in the seaside town of Eastbourne is a fun park spread over two acres, with amusement rides, 'American Adventure Golf' and go-karts. The ancient Cinque Port town is also a great day-out, with some of the best-kept ancient features in the country. The area is also blessed with incredible white cliffs offering stunning coastal walks and fantastic seaside towns that have a traditional British seaside feel.

Sunnyside Caravan Park is a popular choice for those looking to visit East Sussex. It has one of the best locations for a holiday in the country, because it gives you easy access to the coast, and a wide variety of small towns and villages. You'll never get bored in this idyllic part of the world that is both peaceful and vibrant. There is lots on offer here for the kids including pleny of open space for ball games and picnics. This is also popular spot for couples looking to spend some romantic time together. There are excellent restaurants nearby and the large town of Eastbourne is only 30 minutes away.

Shearbarn Holiday Park is another great option, especially for those looking to spend time exploring the great outdoors. Having been awarded the David Bellamy Gold Award for Conservation, this park has always been a favourite among nature lovers as well as those looking to explore East Sussex. There is also the added bonus of being just a short walk away from the beach if you're looking to spend some time relaxing by the seaside.

Visiting East Sussex has never been easier, or more relaxing, so choose a holiday park and find out for yourself exactly what this great area has to offer. There are many holiday parks and many types of accommodation to choose from so there is something for every budget.
Other guides you might like
Home »
More Park Location Guides »