Isle of Wight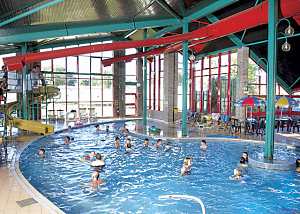 The Isle of Wight has always been a popular destination for tourists. It is a wonderful part of the country, and is definitely one of the best places to go if you're looking to unwind and spend some time relaxing.

The area also has a number of attractions including The Blackgang Chine Fantasy Park which offers families a fun packed day out, while the breathtaking chairlift rides at Needles Park will really get the adrenaline pumping. Butterfly World and Fountain World in Wooton is a more relaxing place to visit and you can see hundreds of butterflies flying freely in a natural environment. With so many different things to offer it's easy to see why the Isle of Wight has become such a well loved destination.

A particularly popular holiday park on the Isle of Wight is Thorness Bay . Set among glorious woodland and close to the stunning coast it offers the perfect location from which to explore the rest of the island. You'll never be short of things to do as the holiday park provides you with a wide variety of facilities. This park is especially popular with those looking to have an action-packed holiday. The swimming pool is the ideal place to cool off in the summer and there is a safe area for children. There is also a kids club provided which gives children the chance to make new friends. Other great features include several places to eat and drink and well organized entertainment making this an excellent choice for a fun family holiday.

Another of our favorite parks is Lower Hyde Holiday Park , which offers you easy access to the beautiful beaches that the Isle of Wight is so famous for. This park is also extremely popular with families, as it offers a wide range of activities for children including clubs and organized entertainment which give parents a chance to relax and take the weight of the world off their shoulders. The evenings are full of fun and there is plenty of family friendly entertainment provided by the holiday park animation team.

The Isle of Wight is a very beautiful holiday destination with a warm climate and stunning beaches making it perfect for a family holiday in the UK. Whether you're looking to spend time relaxing, or want an action-packed holiday, there will be something here for you.
Other guides you might like
Home »
More Park Location Guides »