Norfolk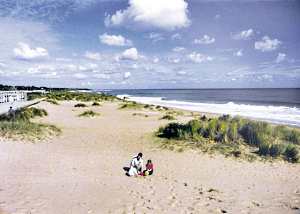 Norfolk is a great part of the country that offers you everything you could possibly want from a holiday, with fabulous scenery and lots of activities available.
You'll be located perfectly in the heart of the English countryside, with quaint market towns and villages scattered around you, so there are a wide range of things to see and do. There are even large expanses of woodland that you can explore freely, with a variety of wildlife to see and experience.

One great way to spend a day is by hiring a boat or taking a trip on a Mississippi paddle steamer, enjoying the Broadland's fantastic atmosphere and ambience. Bewilderwood's treetop adventure is great fun for families with older children, while you could always take a trip to the traditional seaside amusements at Great Yarmouth and Hunstanton. Dinosaur Adventure Park is another fun family attraction with many things to do including a Dinosaur Trail with Track T-Rex, Secret Animal Garden, Deer Safari and Adventure play area.

Vauxhall Holiday Park is a great place to go in Norfolk, offering families the perfect place to spend some quality time together. With a fantastic entertainment team, children's clubs and great evening events at the Regency Room including a variety of cabaret and dancing acts, there's never a dull moment in this park. This park is also situated perfectly to ensure that you can explore the surrounding area and see everything that Norfolk has to offer you.

Summerfields Holiday Park is situated near the eastern edge of Norfolk and is perfect for families with young children. The park itself offers a wide range of entertainment and activities including a large indoor swimming pool a soft play area, 10 pin bowling and sports court whilst there are some fantastic things to see and do outside of the park too. As you are close to the seaside, there's always the option of spending time by the sea in a more traditional style of holiday. The accommodation is extremely comfortable and will allow you to enjoy a fun-filled holiday in style.

Norfolk is an extremely popular choice for domestic tourists, and even for foreign tourists looking to get a taste of England. Our holiday parks ensure that, when you want to, you can relax and enjoy some quiet time, whilst none are isolated or too far away from the attractions. Whichever type of holiday you are looking for, our holiday parks will have something for you.
Other guides you might like
Home »
More Park Location Guides »