Captain Cook's Haven - Yorkshire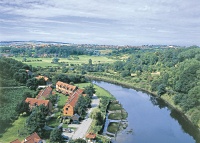 This lovely park has an elevated setting and is made up of a collection of attractive cottages, many with outside terraces with seating areas and furniture. On entering the park it has a very peaceful and relaxing feel. The grounds are very well maintained.

The park is split into 2 main levels, with 22 cottages at top level and 22 cottages at bottom level. As well as appealing to couples looking for a romantic break, these cottages will also be suited to families. There is an indoor pool and kids play area on site.

In addition there is a BBQ area with tables and chairs close to the playground. Captain Cook's Haven is a member of the Yorkshire Tourist Board. Overall impressions of this park on visiting are excellent and as a result this park comes highly recommended by Book Holiday Park.
Exclusive Photo Gallery from our visit coming soon...
Based on Our Visit to Captain Cook's Haven in Yorkshire
Other guides you might like
Home »
More Our Park Visits »